Mattar Paneer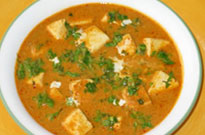 Send Enquiry
Product Description
Mattar Paneer is a simple vegetarian North Indian food recipe with green peas (mattar) and cottage cheese (paneer) cooked in a creamy tomato based curry spiced with garam masala. It is often served with rice and an Indian type of bread such as naan, paratha, poori or chapati. Various other ingredients are often added, such as yogurt or cream, for a slight creamier version of this simple, fuss free and easy dish. Vegan can substitute paneer with tofu and still enjoy the deliciousness.
Serves: 4
Prep Time: 5 minutes
Cooking Time: 20 minutes
Extra Time: 30 minutes for preserving
Ready in: 55 minutes
Ingredients:
250 gms fresh Green Peas (approx 1 cup)
350 gms Paneer
4 Tomatoes
2 Onions
2 inch Ginger
2 cloves Garlic
1 teaspoon Cumin seeds
½ teaspoon Turmeric powder
2 teaspoon Coriander powder
½ teaspoon Red Chilli powder
2 teaspoon Flexi Creme
2 sprigs Coriander leaves
Vegetable Oil for cooking
Salt to taste
Preparation:
1. Boil the peas for 10 minutes.
2. Heat oil in a pan over medium heat.
3. Saute the chopped onions, tomatoes and ginger garlic paste in the pan with cumin seeds, turmeric powder and coriander powder.
4. Add Flexi Creme and let it simmer for 2-3 minutes.
5. Add red chilli powder, salt, peas and paneer. Cover the pan for 5 minutes.
6. Garnish with coriander leaves and serve.