Malai Kofta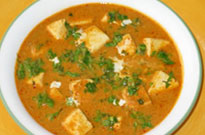 Send Enquiry
Product Description
Malai Kofta is a classic North Indian dish which is the most sought after vegetarian dish in restaurants. Originated from the Mughlai cuisine, it is a rich preparation with koftas (dumplings) dunked in a creamy, sweet and mildly spiced curry. By name, malai means cream and kofta are fried dumpling balls. The dumplings could be of cottage cheese (paneer), or mashed potatoes, or of different veggies of your choice such as cabbage, lauki, etc. The rich gravy or curry can be kept white or colored red or brown by using spice powders and tomato puree. Malai Kofta is best served with tandoori naan, garlic naan or tandoori rotis. Even steamed basmati rice or jeera rice goes well with it.
Serves: 4
Prep Time: 30 minutes
Cooking Time: 45 minutes
Ready in: 1 hour and 15 minutes
Ingredients for Kofta:
2-3 slices of white bread (edges trimmed)
2 large Potatoes (boiled and mashed)
1 cup Paneer (drained and mashed)
½ teaspoon Garam Masala
¼ teaspoon Fennel seeds (Saunf)
2 Green Chillies (chopped fine)
Oil for frying
Salt to taste
Ingredients for Gravy:
3 Onions (grated or pureed)
2 tablespoons Oil
1 teaspoon Ginger Garlic paste
3 Tomatoes (chopped fine)
2 Green Chillis (slit in halves)
½ teaspoon Turmeric powder
½ teaspoon Red Chilli powder
¼ cup Flexi Creme
Salt to taste
Coriander for garnish
Preparation for Kofta:
1. Heat oil for deep frying on low flame.
2. Meanwhile, dip the bread slices in milk. Squeeze out excess liquid and crumble the bread.
3. Place the crumbled bread pieces in a bowl. Add the mashed potatoes and paneer to these. Mash well with your hands.
4. Add other ingredients to this mixture. Taste for seasonings.
5. Now make small balls of the final mixture. It is important to fry the koftas as soon as they are formed otherwise they will get soggy and break when fried. If the mixture is too wet, add some plain flour (maida) to bind it.
6. Deep fry the koftas till golden brown. Set aside on paper to soak up any additional oil.
Preparation for Gravy:
1. Heat oil in a frying pan and add the onions and fry till deep golden brown. This is key to getting a nice gravy.
2. Add the ginger garlic paste and green chillies and fry for few minutes.
3. Now add turmeric powder, red chilli powder, garam masala, salt and tomatoes. Cook till tomatoes are soft, or for about 10 minutes.
4. When you are ready to serve, bring the gravy back to a boil (add some water if too thick).
5. Reduce heat to simmer. Add Flexi Creme. Add the koftas to this gravy and simmer till koftas are heated through.
6. Garnish with coriander leaves and serve.